Meetagain is your local partner to organize all the services your visit requires. We offer different types of tourist attractions and activities during your stay in Sweden. Please see our recommended selection below.

We will add more exciting attractions continuously.
The Stockholm Pass is your ticket into over 60 top attractions; it saves you both time and money removing the hassle of carrying around spare change and queuing up to buy attraction tickets. Step straight inside with the Stockholm Pass and enjoy the simplicity of your sightseeing experience.

The pass works on 24 hour, 48 hour, 72 hour and 120 hour durations from first activation, so it's the perfect option for a range of holidays, whether it's a short city break or a longer vacation.

CLICK HERE TO BOOK NOW!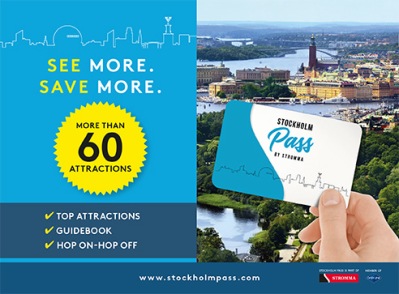 Discover Stockholm with the Stockholm Pass available in 1, 2, 3 and 5 day options.
Enjoy huge savings with just one card, plus a free guidebook and optional additional travel.

Please Note: Child Passes are for 6 – 15 year olds. 16+ years must buy an Adult Pass.

WHAT'S INCLUDED:
Free entry to over 60 of Stockholm's most popular attractions
Free Hop On Hop Off bus tour and boat tours of Stockholm city, islands and canals
Free guidebook to help plan your sightseeing adventure
Optional Travelcard to get around Stockholm with ease
RATES
1 Day Adult Pass - SEK 669
1 Day Child Pass - SEK 335

2 Day Adult Pass - SEK 929
2 Day Child Pass - SEK 465

3 Day Adult Pass - SEK 1 129
3 Day Child Pass - SEK 565

5 Day Adult Pass - SEK 1 479
5 Day Child Pass - SEK 740
Join us in an exciting walk through the narrow streets of the Old Town. Our guide will take you to Stortorget (Main Square), and tell you about the Stockholm blood bath of 1520.
From there the walk continues on to the legend of S:t George and the Dragon.
After this we will stroll through the courtyards and lanes of the city's oldest section, sights which many visitors normally miss.

Send us an e-mail and we will book this tour for you! stockholmia2019@meetagain.se


NOTE: Only available from 1 June

Join us on a boat sightseeing tour and discover the history of Stockholm, the capital of Sweden. The tour starts at the City Hall and takes you around the second largest island in the city, Kungsholmen. We also pass the historical islands of Långholmen and Reimersholme.
Travelling through narrow canals, past leafy shorelines and many interesting buildings, you will learn all about the history of this beautiful city and its development from early industrial to modern times.

See the whole of Stockholm in 75 minutes. This guided sightseeing bus tour passes all the must-see attractions in Stockholm with modern, air conditioned luxury coaches. The tour is perfect for passengers who want a non-stop tour without unnecessary stops on the way.
We take you to the most famous buildings and views over the city. City districts and famous sights such as Stockholm City Hall, The Royal Palace, Östermalm, Gamla Stan (Old Town), Långholmen and The Royal Djurgården are all parts of this tour. During this tour you will get to know Stockholm and the history of the city. Free wi-fi on board!

under the bridges of stockholm
The complete boat sightseeing tour if you're looking to see Stockholm from the water! Step on board and let us guide you to the most famous parts of the city. We'll travel under twelve bridges and pass through a lock that is connecting the Baltic Sea with Lake Mälaren.
We will pass many of the city's sights as we slide by the different parts of Stockholm. Outside the window you will see the inner city, the Old Town, the islands Södermalm, Lilla and Stora Essingen, the new area Hammarby Sjöstad and the green areas of Djurgården.
This boat tour is a perfect sightseeing trip when visiting Stockholm. Get a feel for the islands making Stockholm such a beauty on water. A truly beautiful and memorable tour!
Here at Björkö, in the middle of lake Mälaren in Stockholm, Birka town was based during the 750's and is today known as Sweden's first city. To this day there are visible traces of the people who were born and who lived and died here. Today Birka is one of UNESCO's World Heritage Sites, going here is almost like travelling back in time.
Guided tours, museum and restaurant
There are daily guided tours where our guides introduce you to the Viking era. These tours are included in your ticket. But Birka is also a beautiful island with a historical landscape, perfect for a stroll or a refreshing swim. Restaurant Särimner offers meals and drinks.
To read more about this adventure, click here.

Dinner buffet lake mälaren
Bring your friends to a memorable evening on the exquisite Lake Mälaren. On board at M/S Victoria you will be served a summer buffet along with a magnificent view in a festive atmosphere. The ships' own DJ will also be present to play up-lifting music during the whole trip, where opportunities for dance are surtainly there.
Our summer menu includes delicacies like blackend salmon with herb sauce, mustard herring, BBQ glazed chicken drumsticks, crayfish melangé with cheese from Västerbotten and creamy potato salad. Check out the full buffet under the tab "Menu".
During the boat trip you will also have the opportunity to get off and stretch your legs in a small harbour in Mälaren and afterwards step a board and get served coffee & dessert.

You are welcome on board from 6.30 pm.
The boat departs from Stadshusbron at 7 pm.

ARChIPELAGO TOUR WITH LUNCH
This 2,5 hour long guided lunch cruise is the perfect way to experience the best of what the beautiful Stockholm archipelago has to offer. On board our guide will tell you all about what's typical about the archipelago in a very inspiring way, making the journey a beautiful and informative outing.
You will travel with M/S Östanå I built 1906 a classic pearl and well-known element in the archipelago.

Lunch is included in the price
Your main course is included in the price, and you book it in advance together with your booking.