Meetagain is your local partner to organize all the services your visit requires. We offer destination packages during your stay in Sweden. Please see our recommended selection below.

We will add more exciting attractions continuously.
svenskt tenn - morning tour
Svenskt tenn is a classic interior design company with its flagship store on the beautiful shoreline boulevard, and a must for those with an interest in design and interior furnishings. The timeless, amazingly patterned and brilliantly colored fabrics and beautiful furniture by Swedish-Austrian architect and designer Josef Frank still cause people to make a pilgrimage to the store on Strandvägen. The store originated with the fortuitous combination of two courageous people with fresh ideas: the stylist and businesswoman Estrid Ericsson and the designer Josef Frank. The store has modern classics, a lovely gift department with glass, pottery, and objects by younger established designers.Together they created the elegant and boldly patterned interior design style that continues to pervade Svenskt Tenn's range to this day.
The tour
Learn more about Estrid Ericson, Josef Frank and Svenskt Tenn's interior philosophy with a guided tour with breakfast included.
Svenskt Tenn has a long and interesting history. The company was founded in 1924 by art teacher Estrid Ericson, who recruited Josef Frank to the company ten years later.

Date: May 29 or May 30
Time: 8 - 10 AM

Would you like to book? Or do you wish to visit Svenskt Tenn at another time? Please contact us at: stockholmia2019@meetagain.se
under the bridges of stockholm
The complete boat sightseeing tour if you're looking to see Stockholm from the water! Step on board and let us guide you to the most famous parts of the city. We'll travel under twelve bridges and pass through a lock that is connecting the Baltic Sea with Lake Mälaren.
We will pass many of the city's sights as we slide by the different parts of Stockholm. Outside the window you will see the inner city, the Old Town, the islands Södermalm, Lilla and Stora Essingen, the new area Hammarby Sjöstad and the green areas of Djurgården.
This boat tour is a perfect sightseeing trip when visiting Stockholm. Get a feel for the islands making Stockholm such a beauty on water. A truly beautiful and memorable tour!

Send us an e-mail and we will book this tour for you! stockholmia2019@meetagain.se
archipelago tour with guide
This is the perfect boat tour if you are looking to experience the untouched nature of our unique archipelago in Stockholm in a short time. The tour is 2,5 - 3 hours, just right to experience the best our beautiful archipelago has to offer. On board our guide will tell you all about what's typical about the Stockholm archipelago in a very inspiring way, making the journey a beautiful and informative outing.
You will travel with either M/S Östanå I, built in 1906, or S/S Stockholm, built in 1931. Both are classic pearls and well-known elements in the archipelago. On board the cafeteria serve hot and cold drinks and sandwiches, salads and pies.

Send us an e-mail and we will book this tour for you! stockholmia2019@meetagain.se
Join us in an exciting walk through the narrow streets of the Old Town. Our guide will take you to Stortorget (Main Square), and tell you about the Stockholm blood bath of 1520.
From there the walk continues on to the legend of S:t George and the Dragon.
After this we will stroll through the courtyards and lanes of the city's oldest section, sights which many visitors normally miss.

Send us an e-mail and we will book this tour for you! stockholmia2019@meetagain.se
See the whole of Stockholm in 75 minutes. This guided sightseeing bus tour passes all the must-see attractions in Stockholm with modern, air conditioned luxury coaches. The tour is perfect for passengers who want a non-stop tour without unnecessary stops on the way.
We take you to the most famous buildings and views over the city. City districts and famous sights such as Stockholm City Hall, The Royal Palace, Östermalm, Gamla Stan (Old Town), Långholmen and The Royal Djurgården are all parts of this tour. During this tour you will get to know Stockholm and the history of the city. Free wi-fi on board!

Send us an e-mail and we will book this tour for you! stockholmia2019@meetagain.se
A rooftop tour is an exciting historical guided tour over Stockholm, 43 meters above the ground. Here you get to see a part of Stockholm´s best views with both well-known and new sights to look out over, from above.
It is, as the name suggests, a walk along an exposed track. It includes no climbing. It is a guided, historical walk along a catwalk, on top of the old Parliament building on Riddarholmen.
On the roof, the guides tell anecdotes and the history of Stockholm as a city and Sweden as a country.
During the tour, you are secured to a security system the whole way around the roof.
Guides will be available in English, German, French, Russian, Chinese and Dutch.
Hear the history, take in the stories and be amazed by the view.

Send us an e-mail and we will book this tour for you! stockholmia2019@meetagain.se
RATE FROM:
SEK 695 per person
The Stockholm Pass is your ticket into over 60 top attractions; it saves you both time and money removing the hassle of carrying around spare change and queuing up to buy attraction tickets. Step straight inside with the Stockholm Pass and enjoy the simplicity of your sightseeing experience.

The pass works on 24 hour, 48 hour, 72 hour and 120 hour durations from first activation, so it's the perfect option for a range of holidays, whether it's a short city break or a longer vacation.

Get the card at current prices before the 2019 rate kicks in! Send us an email and we will book your pass stockholmia2019@meetagain.se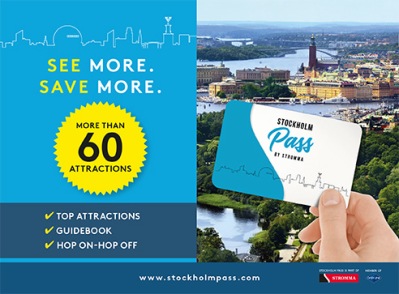 Discover Stockholm with the Stockholm Pass available in 1, 2, 3 and 5 day options.
Enjoy huge savings with just one card, plus a free guidebook and optional additional travel.

Please Note: Child Passes are for 6 – 15 year olds. 16+ years must buy an Adult Pass.
WHAT'S INCLUDED:
Free entry to over 60 of Stockholm's most popular attractions
Free Hop On Hop Off bus tour and boat tours of Stockholm city, islands and canals
Free guidebook to help plan your sightseeing adventure
Optional Travelcard to get around Stockholm with ease
RATES
1 Day Adult Pass - SEK 645
1 Day Child Pass - SEK 323

2 Day Adult Pass - SEK 845
2 Day Child Pass - SEK 423

3 Day Adult Pass - SEK 1 045
3 Day Child Pass - SEK 523

5 Day Adult Pass - SEK 1 345
5 Day Child Pass - SEK 623
Spring in the north is different. From mid-May the days and nights are blurring together due to 24-hour daylight, and you can maximize the hours with both downhill- and cross-country skiing. The weather is warm and you can dress in thin layers. Springtime in Jukkasjärvi is extra exciting this year since you can take a guided tour inside the melting ICEHOTEL. Or why not just lean back in the sun and relax the rest of your day?
Spend a night in -5o C amongst beautiful ice art, created by select artists from around the world.

Send us an e-mail to book your accommodation at the ICEHOTEL stockholmia2019@meetagain.se
To learn more about the ICEHOTEL please click here.
COLD ROOMS, RATE FROM:

Art suite 365 single - SEK 2216
Art suite 365 double - SEK 2516

Deluxe suite Johka single - SEK 8425
Deluxe suite Johka double - SEK 8725

Deluxe suite Hilla single - SEK 8583
Deluxe suite Hilla double - SEK 8820

Deluxe suite Jauvre single - SEK 8820
Deluxe suite Jauvre double - SEK 9120
WARM ROOMS, RATE FROM:

Kaamos room single - SEK 1315
Kaamos room double - SEK 1615

Kaamos superior single - SEK 1355
Kaamos superior double - SEK 1799

Arctic chalet single - SEK 1339
Arctic chalet double - SEK 1639

Nordic chalet single - SEK 1394
Nordic chalet double - SEK 1694